Written, Designed, and Edited by: Carole C. Good
Positively Good Productions
"Making a Positively Good difference"




Be strong... press on...
you're not alone.
In Christ,
we can take courage
and look at those times of crises...
as only passages.
Edify one another -
Strive to build up each other.
Look at the power of encouragement!
We are called to encourage.
Of the 107 times the New Testament tells us to
take some action with one another,
14 verses specifically tell us to become encouragers.
When we look at some of the other actions commanded,
i.e., to love, to forgive, to build up, to edify, to admonish,
to comfort, to teach, to serve,
we will realize that the majority of commands deal with
an action which if taken... will result in encouragement.
God uses our mouths to encourage those around us.
We find Paul telling us in Ephesians 4:29:
"…speak what is helpful for building others up
according to their needs that it may benefit those who listen."
1 Thessalonians 5:11 reminds us,
Therefore encourage one another and build each other up.
May we strengthen, comfort and edify one another.
There are many wonderful things
that will never be done
 
if you do not do them.

Charles D. Gill
A bird does not sing
because it has an answer;
it sings because it has a song.

Chinese proverb
Be bold and mighty forces will come to your aid.
In the past, whenever I had fallen short
in almost any undertaking, it was seldom because
I had tried and failed. It was because I had let fear
of failure stop me from trying at all.


Arthur Gordon
"Those who dare to fail miserably
 
can achieve greatly."
 
~John Fitzgerald Kenned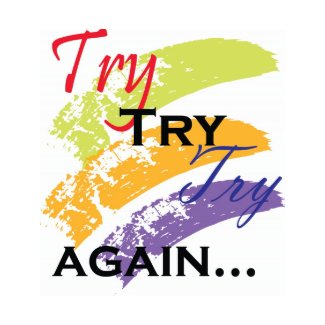 Your body is free but your heart is in prison.
To release your heart, you simply reverse the process which
locked it up. First you begin to listen for messages from
your heart— messages you may have been ignoring since
childhood.
 
Next you must take the daring, risky step of expressing
 
your heart in the outside world. As you learn to live by
heart, every choice you make will become another way
of  telling your story. . . . It is the way you were meant to exist.
 
If you stop to listen,
you'll realize that your heart has been
 
telling you so all along.
 
Martha Beck, "Finding Your Own North Star"
Ask and it shall be given;
Seek and you will find;
Knock and it shall be opened unto you.
Matthew 7:7
Whatever good or bad fortune may come our way
we can always give it meaning and transform it into
something of value.
It is not the critic who
counts:
not the man who points
out how the strong man
stumbles or where the
doer of deeds could
have done better.
The credit belongs to the man who is actually in the arena,
 whose face is marred by dust and sweat and blood,
who strives valiantly, who errs and comes up short again
and again, because there is no effort without error or
shortcoming, but who knows the great enthusiasms,
the great devotions, who spends himself for a worthy cause;
who, at the best, knows, in the end,
the triumph of high achievement, and who, at the worst,
if he fails, at least he fails while daring greatly,
so that his place shall never be with those cold
and timid souls who knew neither victory nor defeat.

Theodore Roosevelt 1910
Help us to realize
O God,
we each have the right to be
who You created us to be. 
Be faithful in small things
because it is in them that your strength lies.
Mother Teresa
May we realize this great opportunity and privilege
of allowing the unfolding of the individuals--
we were created to be.
Understanding our potential and purpose requires
patience, determination, and daily achievement.
Once we have truly come to know the self
we are better equipped to tap into our potential,
glow from within,
and look outward with the right attitude toward others.
 Facing challenges
is really a matter of having faith in our own ability
to be positive about life.
 May we never lose sight of this important truth:
none of us can be truly great
until we put God first,
and gain a knowledge of ourselves.
  May we come into being...
knowing our inherent capacity for personal growth,
potentialities and development.
Excelling our past means
real growth from within. 
 God doesn't require us to succeed;
He only requires that you try.
Mother Teresa
May we rediscover the strength
and faith that is deep within us. 
May we claim our heritage 
which God has provided.
When life gives us a hundred reasons to cry,
may we show life that we have
 thousands of reasons to smile.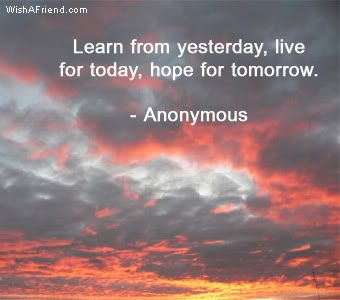 In You, O God is life.
Nurturing another's spiritual growth
has the effect of nurturing one's own.
 May this day find you radiating sunshine,
cheer and optimism.  
You, O God whisper to our heart:
Keep your head held high and look to the hills from
whence your help comes from.  
No instrument of war which is formed against you will be of any use;
and every tongue which says evil against you will be judged false. 
This is the inheritance of the Lord's servants.
Their victory comes from Me," declares the Lord.
Isaiah 54:17
Reverence to You,
O God comes first.
 You are our Great Deliverer.
 When You, O God grant a blessing
it is an eternal blessing.
"When one door closes,
but we often look so long
and so regretfully upon the closed door
that we do not see the one that has opened for us."
O God, You are our confidence,
the sure and strong anchor of our soul. 
My soul, wait in silence for God only,
For my hope is from Him.
Psalm 62:5 
One night with the King
changes everything.
 As one thinks
in ones heart,
so they are. 
We are here for a purpose! 
Our deepest fear is not that we are inadequate.
Our deepest fear is that we are powerful
beyond measure.
It is our light, not our darkness, that most frightens us.
We ask ourselves,
who am I to be brilliant,
gorgeous, talented, fabulous?
Actually, who are you not to be?
You are a child of God;
your playing small doesn't serve the world.
There is nothing enlightened about shrinking
so that other people won't feel insecure around you.
We were born to make manifest
the glory of God that is within us.
It's not just in some of us; 
it's in everyone.
And as we let our light shine,
we unconsciously give other people
permission to do the same.
As we are liberated from our own fear,
our presence automatically
liberates others.
NELSON MANDELA,
inaugural speech, 1994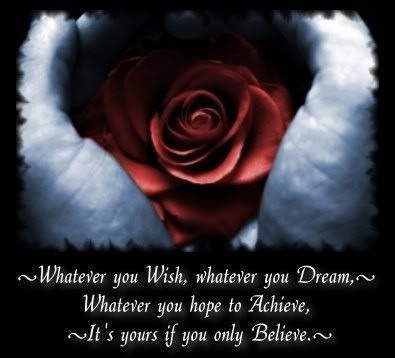 No one lives on the top of the mountain.
It's fine to go there occasionally —for inspiration,
for new perspectives. But you have to come down.
Life is lived in the valleys.
That's where the farms and gardens and
orchards are, and where the plowing
and the work is done.
That's where you apply the visions you may have glimpsed
from the peaks.
Arthur Gordon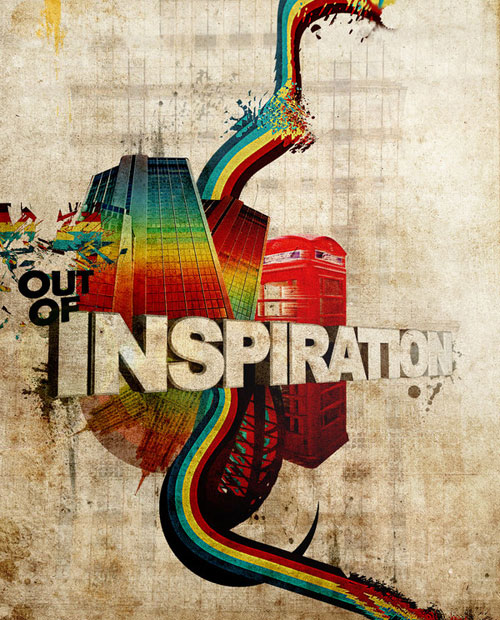 You miss 100% of the shots you don't take.

Wayne Gretzky 
 Smile, God loves you! 
Be happy in this very moment,
no matter what!
Make your life the masterpiece
you were created to be!
The race is not to the swift,
nor to the strong,
but to the individual
who endures to the end.
Stay the course.
  Pursue your goal regardless
of obstacles or criticism.
 Trust God. Patiently endure.
We are not alone. 
As one thinks in their heart,
so they are.
Stir and awaken
the sleeping giant within.
God began a Good Work in us
and God will be faithful to complete it. 
 Do the best you can each day
by the light you have.
Be brave.  
You have huge power within!
Unleash your Giant. 
It is up to us to realize
the possibilities that are available.
 Don't ignore the roar of the ocean of opportunity.
 Press on to your higher calling. 
 

May God get out of us 

all that we've been endowed and 

equipped to do.

 

 

Failure is Often but the Dawning of a 

Greater Success.
By maximizing our potential and purpose 
we make godly decisions daily. 

 
 From the fullness of God's grace
 we have all received 
one blessing after another.
Every day we become 
increm

e

ntally closer 

to our expected end for our life. 

 
May we refuse to die full.
May we glorify God 
with our life and living! 
The Good News is...
God has not given up on us.
No one can stop us. We stop ourselves.
No one will push us unless we push ourselves.
We must make the choice.
Be that ambitious one
who thinks
nothing is impossible. 
 mall opportunities are often
the beginning of awesome enterprises.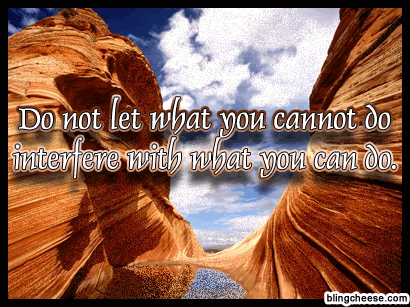 Trust God for the results.
 Moving forward despite uncertainty
because God said so
is putting faith in motion.

 Spread the...   
  Positively Good News! 
 
[The void] It's that place in our lives where what we've
 
been hanging onto . . . clinging to for dear life . . . is
 
stripped away. It's that place in us where we let go of what
 
we know, what we think we know, and what we want and
 
surrender to the unknown. It is the place of saying and
 
meaning, 'I don't know.' It means standing there with our
 
hands empty for a while, sometimes watching everything
 
we wanted disappear; our self image, our definition of who
 
we thought we should be, the clones we've created of
 
ourselves, the people we thought we had to have, the things
 
we thought were so important to collect and surround
 
ourselves with, the job we were certain was ours, the place
 
we thought we'd live in all our lives. . . Surrender control to
 
the supreme wisdom and authority of God and to the Divine
 
in your soul. Step into the void with courage. Learn to say,
 
I don't know. That's not blind faith. It's pure faith that will
 
allow God and your spirit to lead you wherever your soul
 
wants and needs to go.
 
Melody Beattie, "Finding Your Way Home"
When I stand before God at the end of my life,
I would hope that I would not have a single bit of talent left,
and could say,
"I used everything you gave me".
Erma Bombeck

Have A Great Life!