Written, Designed, and Edited by: Carole C. Good
Positively Good Productions
"Making a Positively Good difference"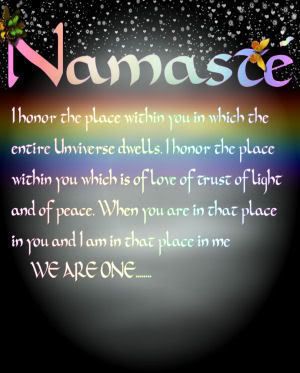 Namaste is a symbol of gratitude and respect. 
 The gesture Namaste represents the belief that there is a
Divine spark within each of us. The gesture is an
acknowledgment of the soul in one by the soul in another.
"Nama" means bow, "as" means I,
and "te" means you.
Therefore, Namaste literally means
"bow me you" or "I bow to you."
can also be done by placing the hands together
in front of the third eye,
bowing hands down to the heart.
This is an especially deep form of respect.
Although in the West the word "Namaste" is usually spoken
in conjunction with the gesture,
in India, it is understood that the gesture itself signifies Namaste,
and therefore, it is unnecessary to say the word while bowing. 
I honor the place in you in which
the entire universe dwells.
I honor the place in you which is of love, of truth, of light, and of peace.
When you are in that place in you,
and I am in that place in me,
we are one.
May we honor the divine in all that we encounter or...
in ourselves and everyone we meet. 
We are all one
when we live from the heart.
Namaste allows two individuals to come together
energetically to a place of connection and timelessness,
free from the bonds of ego-connection. 
If it is done with deep feeling in the heart
and with a quiet mind,
a deep union of spirits can blossom.