Written, Designed, and Edited by: Carole C. Good
Positively Good Productions
"Making a Positively Good difference"




 The 23rd Psalm is a beautiful song of praise.
 The 23rd Psalm is one of the most popular
and beloved of the Psalms.

It is perhaps the preeminent Psalm of prosperity.
The 23rd Psalm is often used in times of trouble and loss.
This Psalm has bidden many
who have experience personal sorrows...
certainty...
for a morning of joy.
The 23rd Psalm has been and is comforting
to many mourners in their night of weeping.
The guidance, beauty, strength and encouragement
one gains from the 23rd Psalm is unsurpassed.
Like sheep, we, too, need a Shepherd.
Sheep are basically helpless creatures
who wander off and get lost.
We, like the sheep, cannot survive long
without a shepherd.

We, too, are totally dependent upon God
to Shepherd, protect, and care for us.
Since the Lord is our Shepherd, our Feeder,
we can rest assured...
God is all-sufficient,
and we shall be supplied
with whatever we need.
We have Everything We Need!
 The 23rd Psalm speaks both
to life and to death.
The 23rd Psalm helps us to better understand and accept
the death of our loved ones,
and it also evokes thought, as it relates,
to the profound and inevitable aspect of our own mortality.
The 23rd Psalm assures us that with God as our Shepherd,

we have all that we need for both life and death. 
 The 23rd Psalm focuses on the discipleship qualities
of those who follow God.
The Lord is our Shepherd.
The Shepherd takes great care
to protect the sheep.
 THAT'S RELATIONSHIP!
When we recognize the Good Shepherd...
we follow Him!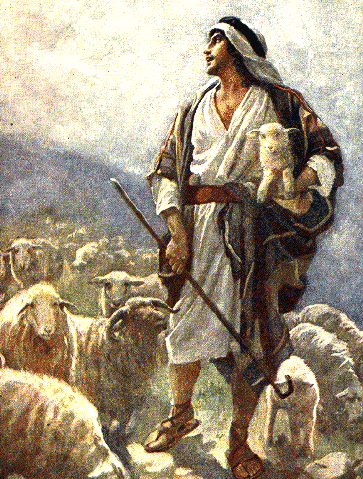 As the Lord is the Good Shepherd,
so we are His sheep --
not frightened or passive,
but obedient followers,
wise enough to follow the One
who will lead us in the right places
and in right ways.
 Because the Lord is our Shepherd,
God meets all of our needs...
and we have everything we need!
 The sheep are helpless,
innocent,
and utterly dependent on God.
 God, fulfills His role as Shepherd by
protecting the sheep.
Thus, the sheep "shall not want."
We shall not want...
THAT'S SUPPLY!
 When we allow God our Shepherd to guide us,
we have contentment.
God lets us rest in the meadow grass.
God makes us to lie down in green pastures:
THAT'S REST!
God leads us beside the still, serene waters.
God leads us beside the quiet streams. 
THAT'S REFRESHMENT! 
God gives us new strength.
He restores, refreshes, and revives our soul.

 Our Shepherd knows and leads us to the
"Green pastures"
and "Quiet waters" that will restore us.
  We will reach these places
only by following God obediently...
not the world.

Rebelling against the Shepherd's leading
is actually rebelling against our own best interests.
We must remember this the next time
we are tempted to go our own way
rather than the Shepherd's way.
 God leads us in the paths of righteousness
for His Name sake.
 He helps us do what honors Him the most.
Yea, though we walk through the valley
of the shadow of death, we will fear no evil:
For God is with us;
God's rod and God's staff, they comfort us.
 Even when walking through the dark valley of death
we will not be afraid, for God is close beside us,
guarding, and guiding us all the way.
God prepares a table before us
 in the presence of our enemies;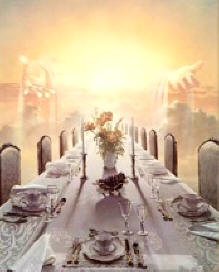 God knows how to create a feast for His own.
He sets a nice table, right in front of us,
and in the presence of our enemies.
Not to be vindictive, but to show our enemies
how His anointed are treated.
God has welcomed us as His guest.
God has anointed our head with oil.
Our cup runs over...
blessings overflow!
Surely goodness and mercy shall follow us...
 all the days of our lives,
and we will dwell in the House of the Lord forever.
   Scroll Back To The Top Of Page For Table Of Contents.