We believe, one willing voice
can make a
positively good difference.
E-mail: carolecgood@carolecgood.com
Website Created,
Written,
Designed,
and Edited by:
Carole C. Good
Positively Good Productions
Sowinig blessings and life lessons

to encourage,

refresh, and benefit
According to Scripture, life here, no matter how good it is,
is nothing compared to the life that awaits us in heaven.
It is important to seek meaning in living.
Life is a glorious opportunity, if it is used well,
to condition ourselves for eternity.
Let us not squander this amazing opportunity
to prepare to meet God.
God has a purpose for everything He created.
Isaiah 45:18.
God created us with a "Spiritual need,"
which is far beyond the pursuit of things.
Some have achieved their goals of wealth,
relationships, and pleasure; yet, there is still a deep void,
an emptiness that things have not been able to fill.
If we fail in preparing to meet God,
though we succeed in everything else,
our lives will have been a failure.
When we seek to guide our own lives
and exclude God... the end result is emptiness.
According to Scripture,
God wants to fill that void.
Psalm 145:16.

Having an intimate, personal relationship with God
begins the moment we realize our need for God.
Those who have a personal relationship with God
include God in their daily lives.
They pray to God, and they spend quality time reading
and meditating on God's Word
in an effort to get to know God better.
Our purpose in life is
to have a personal relationship with God,
to fellowship with God,
and allow God to order our steps.
"Draw close to God,
and God will draw close to you."
James 4:8; 2:23.
One might say to themselves,
"That does not sound very exciting or fulfilling to me!"
But Jesus made the following statements:
"Come to Me, all you who are weary and burdened,
and I will give you rest.
Take My yoke upon you and learn from Me,
for I am gentle and humble in heart,
and you will find rest for your souls.
For My yoke is easy and My burden is light"
Matthew 11:28-30.
"I have come that they may have life,
and have it to the full"
John 10:10.
"If anyone would come after Me,
he must deny himself
and take up his cross and follow Me.
For whoever wants to save his life will lose it,
but whoever loses his life for Me
will find it"
Matthew 16:24-25.
"Delight yourself in the LORD
and He will give you the desires of your heart"
Psalm 37:4.
Life is very brief and unpredictable
and can blindside us in a heartbeat.
As we transition into a more knowledgeable,
experienced person... we start looking at what is really
Life is the aspect of existence that processes,
acts, reacts, evaluates, and evolves through growth.
Being reminded of our own mortality can lead us to
analyze our lives and seek deeper meaning to it all.
Life can bring us to a place of humbling
and grounding where we come to realize there is
something greater than the material world we inhabit. We
sense, at some point in our lives, that there is something
important for us to do, or learn, or experience. We
understand that there has to be something more than just
Every day is a gift, a fresh start,
and an opportunity
to learn, to live,

As we grow in awareness, we seek to know truth, that
deeper meaning to life, and what it is all about.
We seek
our truth, to fulfill our purpose,
to somehow have our lives
make sense
in the context of everything that is going on
We ask ourselves all-important questions, such
as:
What is my mastery and purpose in life?
Our purpose in life is to make the most of our time
here on
earth, to complete our life plan,
and to learn the lessons
included in our life plan.
We believe, when we see life as a journey of
learning
and embrace the concept of being lifelong
students…
we open ourselves up to a more enlightened
God created us with a
"Spiritual need,"
which includes the desire to find meaning in life.
According to the Scriptures...
our purpose in life
is to build a
personal and loving relationship
Our enjoyment of life is a by-product of
seeking to please God.
God values us as precious treasures,

capable of honoring Him with our bodies and spirits.
We are created in God's image
for an intimate relationship with God.
More important than any human relationship
is our relationship with God.
All other relationships are merely symbols of it...
but they pale in comparison.
The greatest joy for every person,
and for every relationship is knowing
that God is within us.
Despite our corruption, God still remains in us.
Think about how empty, unfulfilled,
and restless we would be without God.
Having a personal relationship, with God,
is the only thing that will ultimately satisfy
and quench our souls.
To have a personal relationship with God
is the greatest decision we will ever make!
No matter what title one holds,
or how much one has in their bank account,
or where they live or came from...
the truly good life comes from
and having God's blessing upon us
.
God is reality...

and mankind is made in the image
of God.
Not a single human being, by his own efforts,
is able to measure up to the glory of God.
God's glory is His splendor,
the outward display of His attributes.
God desires that we share that splendor.
We were created to show the world
how precious. awesome, amazing,
and deeply satisfying God is.
Every day there are opportunities to be the hands,
the warm smile and or/ greeting, the listening ears,
and feet of Jesus to those around us.
We bear the responsibility of being used of God
as ambassadors for Christ.
We have a marvelous opportunity of demonstrating
to the world what Jesus might look like…
and doing what Jesus would have done...
were He to walk the earth, today.
Who knows, just merely smiling and acknowledging
another... could turn a life around.
Think about it… one could possibly
come to know Jesus...
by watching us!
Think about it:
People are suffering and in desperate need of God's love.
Sometimes, we may be the only exposure
one will have to the love of God.
The world is hurting,
and we can be a light.
As believers the worse we will endure is criticism
for loving God, who walked as a Man...
and changed the world.
We believe life is a herculean journey filled with lessons
that will challenge and test our courage,
strength, integrity, and faith.
We believe as we journey through life...
we may stumble upon our fair share of hardships
and heartaches, but in God's strength...
we shall overcome.
Seeking and realizing our life's purpose
can help us to move with greater focus and clarity
every day of our life.
Many people live their lives

without ever reflecting on life itself...
or its meaning for them.
Their lives may be filled with all kinds of activities;
yet, they don't realize the overall purpose
or have a clear idea of why they exist.
Life is short, fragile, and precious.
It is not at all satisfying to think
our lives have no more meaning than just
being born...
living a short while...
then dying.
The purpose of our time on earth is not to secure
possessions, acquire prestige and distinctiveness,
garner success, or realize worldly contentment.
Those are secondary arguments.
The primary mission in life is to
"Seek First the Kingdom of God
and His righteousness,"
as Jesus said
in His Sermon on the Mount
(Matthew 6:33).
The verse's meaning is as direct as it sounds.
We are to seek the things of God
as a priority
over the things of the world.
One may succeed in many worldly areas,
like methods and good management principles,
financial status, talents, physical appearance,
or a host of many other accomplishments,
but we must be careful never
to become victims of ego, status, and materialism.
These snares could cause one to neglect
seeking first God's Kingdom...
and take all of the glory for oneself.
Even after God has saved us,
we're still prone to take credit for things
that are due completely to God's grace.
But Seek First the Kingdom of God
and His righteousness,
and all these things will be added to you.
(Matthew 6:33)
This is the Will of God for our life,
that we...
Seek First the Kingdom of God
and His righteousness.
God's Will for our life
is that we live for Him!
That we follow and serve Him.
That we be righteous.
That we grow to know and love Him
more and more each day.
That we become more like Him.
As the Scriptures remind us,
"The man who finds life
will find it through trusting God."
God is our Life,
the very breath of our soul.
May we allow God to guide our steps
in all matters of life.
God's guidance is infinitely better
than we could ever do.—
When we seek God and pursue God's Will for our lives,
with our whole heart, we will see life and live life from a
higher perspective.
According to Scripture,
we exist in order to know God,
to do God's Will, and bring glory to God.
We believe knowing God
brings real purpose to one's life.
We believe each of us has a purpose,
a specific life plan,
a reason for being here...
and our part is to walk in our calling...
so that we complete that plan.
Dear God, whatever it takes, align our desires with Yours,
so that our lives are aligned with your purposes.
Let Your Will be done through us.
When we are aligned with God's Way,
Will, and Timing in our lives...
our ability to see and realize the supernatural
power of God will be clearer.
We believe what gives life true meaning is God Himself.
We believe one can begin to realize a very meaningful
life as one comes to realize that God is alive, real,
and the reason for our existence!
Being alive is to evolve into the complete person we were created to be.

Let us not wait till life's brief days are done

before we start to realize how fast life has been

passing us by.

Should this be the case,

our final moment may well be one of regret on

what may have been...

instead of a sense of contentment over

what has been... and is being done.

Our time on earth has purpose,

it has meaning.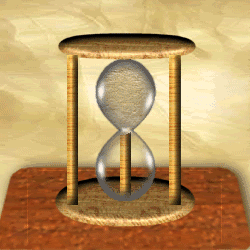 Every minute counts.
the precious seconds of our lives.
Every minute of our lives should be savored.
May we grow, serve, and strive to do our very best to make the most of our lives each day.
The heart of man plans his way,
but God establishes his steps.
Proverbs 16:9
Even though life is an intricate,
complex layer of experiences,
the meaning of life and key to joy
is through giving back and serving others.
We understand that we can't understand

or control all there is in life,
but what we do know and understand is...
we can influence what we leave behind
for those who are going through...
or those who have yet, to go through.
We know that what we have been blessed to receive,
we must humbly and prayerfully...